Two Swedish citizens were fatally shot on Monday in Brussels, raising the terror alert level in Belgium after a man posted a video on social media claiming to be the attacker and a member of Islamic State.
The attack took place shortly after 7pm and targeted three people, authorities said. The two Swedes died and the third victim, a taxi driver, was "said to be out of danger", Belgium's National Crisis Center said.
"The federal prosecutor's withdrawal was made because of a possible terrorist motive for the shooting," the agency said.
Belgian Prime Minister Alexandre de Croix also confirmed on social media that the victims were from Sweden. A posted a video on social media claiming to be the attacker, calling himself Abdesalem Al Guilani and a "fighter for Allah".
FORMER ISRAELI SOLDIER SUGGESTS HOSTAGE RESCUE OPERATIONS BEHIND GAZA GROUND INVASION DELAY
"Islamic greeting Allahu Akbar. My name is Abdesalem Al Guilani and I am a fighter for Allah," the self-proclaimed gunman said in a video message, Reuters reported. "I am from Islamic State. We love those who love us and hate those who hate us. We live for our religion and die for our religion. Alhamdullah. Your brother took revenge in the name of Muslims. I have killed 3 Swedes so far Al hamdoulelah. 3 Swedish, yes. Those to whom I have done something wrong, forgive me. And I forgive them all. Salam Aleykoum."
De Croo said he had spoken to Swedish leaders and that: "Our thoughts are with the families and friends who have lost loved ones. As close partners, the fight against terrorism is shared."
The shooting occurred three miles from where 35,000 fans were watching a Belgium-Sweden soccer match in a Euro 2024 qualifier on Monday, Belgium's counter-terrorism center said. The match was abandoned at half-time, the Union of European Football Associations said on its website.
VIOLENT HAMAS 'SHADOW UNIT' POSSIBLE BACK OF HOSTAGE RAIDS Poses Rescue Nightmare: EXPERT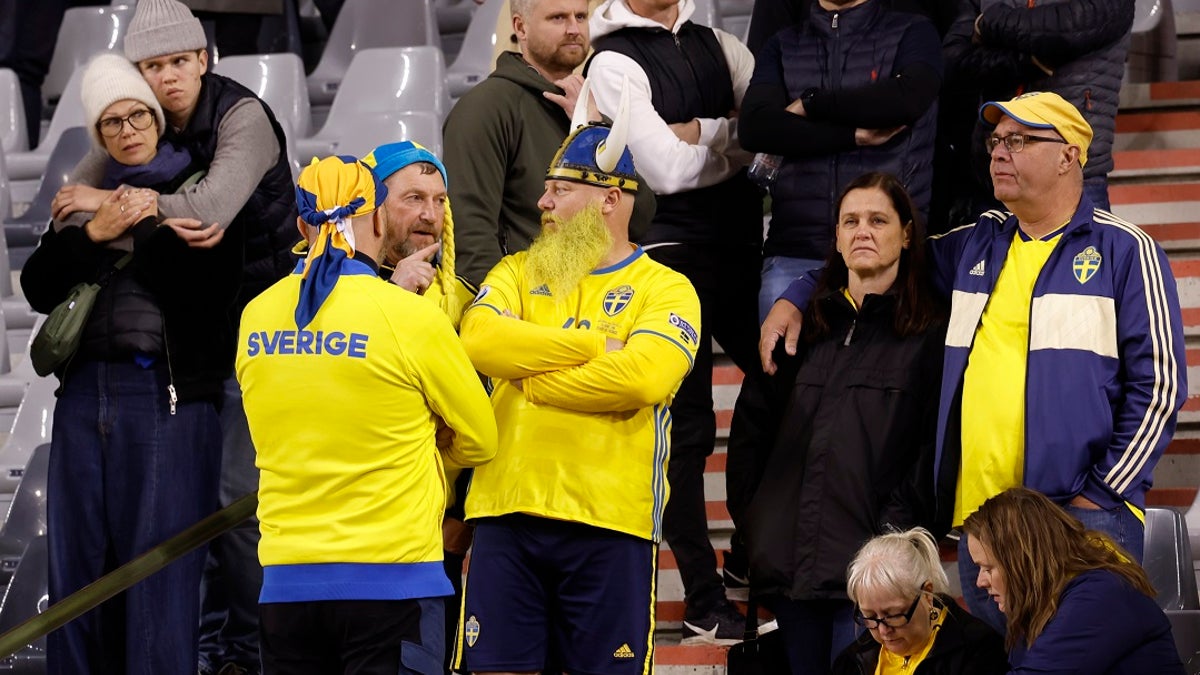 A Belgian newspaper reported that the dead victims were two soccer fans.
The terror alert level for Brussels was raised to 4, the highest, while the alert for the rest of the country was raised to the second highest level. Raising the terror level in the capital to the top 4 means that a "threat is extremely serious". Previously it was 2, meaning the threat was moderate.
Media outlets broadcast amateur videos showing a man firing multiple shots near a station using a large gun.
"Horrible shooting in Brussels. Author wanted," Interior Minister Anneliese Verlinden tweeted. "The investigation by the police and the prosecutor's office is ongoing. I am monitoring the situation and the steps to be taken with the National Crisis Centre."
CLICK HERE TO GET THE FOX NEWS APP
Authorities said there was no indication the attack was related to the war between Israel and Hamas.
Sweden raised its terror alert to its second-highest level in August after a series of public Koran burnings by an Iraqi refugee living in Sweden led to threats from Islamic militant groups.
The Associated Press contributed to this report.