Israel's ambassador to the United Nations has taken a firm stand against a surge in anti-Semitism, insisting that "the time for words is over" and that we must act now to "ensure that no Jew lives in fear" amid his war Israel with Hamas.
Addressing a meeting at UN headquarters in New York on Monday, Ambassador Gilad Erdan said there must be "a clear price for hate crimes against Jews".
"Now more than ever we need to act," Erdan said. "Governments need to take action, universities need to take action, social media companies need to take action, even individuals can take action. If you see or hear anti-Semitism, don't ignore it. Call it out. Report it. Use the voice, but even more than that – act. When we see hateful Jews tearing down posters of our hostages, our babies, we must report them to their employers and fire them."
Erdan also spoke of a surge in anti-Israel demonstrations and meetings held on several college campuses in recent weeks in the US, calling on those who participate in or allow the rallies to proceed to face serious consequences.
HISTORIC RISE OF ANTI-SEMITISM HAS AMERICAN JEWS IN THE TRUNK: 'CHALLENGE OF GENERATIONS'
"When university presidents facilitate rallies that support terrorism, we must call for their resignation loud and clear," he said. "When Jewish students are attacked on campus, we must demand the expulsion of the anti-Semite. Any university that cannot even condemn terror or refuses to provide safety for Jewish students facing threats and violence is not safe for any student. Anyone remained silent after his slaughter children do not have the moral credibility to educate children."
"These haters must be silenced. We are not the ones who must remain silent," Erdan added.
During his remarks, Erdan also wore the yellow star he promised to wear late last month until the council explicitly condemned Hamas.
"I wear this patch as a symbol of determination and strength! Israel is strong and Israel will win. We must remember the price of silence in the face of evil. The patch is a reminder of the shameful silence of the UN," he said. of the patch on Monday.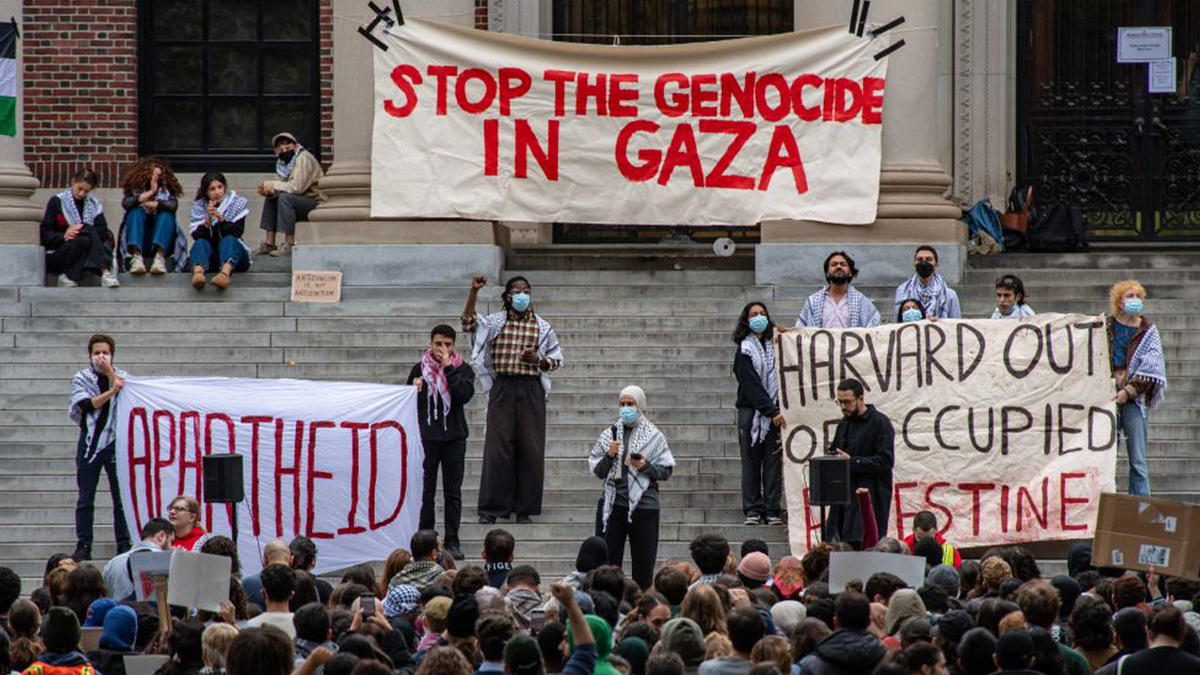 PRESIDENTIAL HOPE CALLS TO END FEDERAL FUNDING, TAX CREDITS FOR COLLEGES THAT JUSTIFY ANTI-SEMITISM
Noah Fay, a student at Columbia University who has been outspoken about the anti-Israel sentiment shared by some of her peers on college campuses, was also present at the meeting and called on UN ambassadors to take action against anti-Semitism and " intervene."
"At school we learn about you, the UN. We learn about the importance of this body, this institution… some of us talk about it," he said. "I challenge you all now to show us, to show the students who have been raised to see this institution as the ultimate source of international order and justice, that you are indeed who you say you are."
"You are the adults we have been raised to admire, to respect. If you don't step in, if you adults don't step in, I fear for my generation. Because if this body of adult world leaders doesn't step in, who am I supposed to raise the my children to admire, to respect, as upholders of morality, world order and justice?'
CLICK HERE TO GET THE FOX NEWS APP
Pro-Palestinian and pro-Israeli protests have broken out on US college campuses following the deadly October 7 Hamas ambush. Many colleges have seen anti-Israel protests combined with anti-Semitic incidents and violent threats, leaving some Jewish students feeling unsafe on campus.
There were 312 anti-Semitic incidents between October 7 and October 23, an increase of almost 400% year-on-year, according to the Anti-Defamation League. The increase led the Biden administration to work with universities to combat threats against Jewish students.